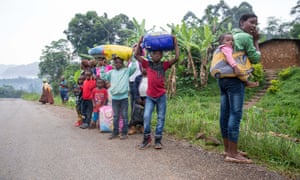 As rebel groups combat the clampdown on anglophone activists, civilians are being caught in the
crossfire, with reports of many killed and tens of thousands forced from their homes
An hour and a half's drive from Bamenda, in Cameroon's north-west, is Belo, a village largely abandoned except for a military checkpoint manned by drunken soldiers.
In the middle of the road is a burnt motorcycle. A little further on, a corpse is sprawled – someone has tried to cover it with a few handfuls of grass.
Two girls pass by with bags on their heads filled with dried fish. "We barely have any food. That's why we came back to collect the fish," they say.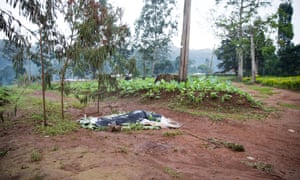 They explain that the corpse belongs to a villager. "There are many more bodies," they add. "The soldiers burned part of the village."
Belo is on the frontline of Cameroon's
simmering conflict
between anglophone and francophone, an increasingly secessionist struggle that has pitted the French-speaking government in Yaoundé against the recently emerged Anglophone Ambazonia Defence Forces (ADF) and other rebel groups. According to the UN, the fighting has forced an estimated
20,000 Cameroonians to flee
to Nigeria.
Many more people forced from their homes remain in the country. On the main road outside Belo, groups of people are moving, laden with possessions, whole families leaving with everything they can carry.
"We are on our way to Bamenda," a woman says. Like all the others, she asks not to be named for fear of reprisal.
"There was a fight between the ADF and the army. Beginning in the early morning, I heard heavy gunfire. The army attacked the rebels in the village. The rebels blew up a bridge. So the army got stuck, and the rebels succeeded in killing the soldiers.
"The army sent reinforcements later in the day, and then they started taking their revenge on the villagers. They burned the houses, raped women and executed people at random. Those who had the chance to flee are hiding in the jungle," she says. She could not tell how many were killed. "Many. This is a genocide."
The matron at the nearby Mbingo Baptist hospital confirms that on the evening of 5 April "many soldiers" were brought in. About civilian casualties, however, she says she is unaware.
What happened in Belo is not unique in a conflict that has been rapidly gaining momentum.
Although French and English are both official languages in the central African country, English speakers complain of policies they say discriminate against them, particularly in the education and judicial systems.
Beginning as an anglophone demand for more say in the government of President Paul Biya, that movement evolved at the end of 2016 into strikes, demonstrations and an uprising.
Then in 2017 the Cameroon Anglophone Civil Society Consortium began
Operation Ghost Town
, a call for the shutdown of schools in the English-speaking south-west and north-west provinces.
In response, the government arrested anglophone leaders, blocked the internet for three months and installed a curfew in a series of repressive measures that became deadly when, in September of last year, at least
40 were reportedly killed
during massive demonstrations.
That in turn provoked rebellion when in December separatists of the Ambazonian Defence Forces began attacks on state targets, with Biya declaring war on the separatists in places like Belo in retaliation.
In the village of Ambo the scene is similar to Belo. Small groups of soldiers occupy the village centre. The walls of several houses are marked by bullet holes and arson attacks.
The deserted village of Ambo
An old man is standing in his door. "I could not flee, because my leg is crippled. My grandchild had to stay with me – both her parents are dead. For weeks now, we have survived on bananas."
Another man joins the conversation. His knee is suppurating where he was beaten and on his back, a slowly healing scar shows where he was struck with a machete. "The soldiers nearly got me," he mutters.
He points to a nearby house. "An old woman was shot there. The soldiers killed her in her own house. I also saw two girls hit by bullets in their shoulder."
And while the fighting in Belo occurred last month, the violence is continuing.
Near the village of Widikum, machine guns rattle. A roadblock – one of the many that are situated every 10km or so – has been attacked by rebels. When travellers are finally permitted to pass, a house is burning further down the road.
Lucas Cho Ayaba is commander in exile of the Ambazonia Governing Council, of which the Ambazonia Defence Forces are the military arm. He sees the government in Yaoundé as an occupying force.
"60% of the GDP of
Cameroon
is earned in Ambazonia. Oil and wood are exploited by foreign companies, but the profits go to Yaoundé. On the other hand there is allegedly no money to provide for English-speaking teachers," Ayaba says in an interview by phone.
"Our first aim is to make Ambazonia ungovernable. We must try to raise the cost of the occupation to higher than the profits they get here."
His comments explain the actions of the ADF. Lorries transporting huge logs are torched by the rebels. In the village of Batibo a local authority building has been destroyed. Civil servants have been kidnapped.
"We cannot stand idly by," Ayaba adds. "Peaceful protests and civil disobedience in the ghost towns simply do not have any effect against the repression of Yaoundé."
Ayaba also denies claims that Nigeria is backing the ADF, and that there are Nigerians among their forces. "I do not know of any Nigerians in ADF. Of course we have training camps, but they are located in villages of Ambazonia not in Nigeria."
Despite this, say locals in Bamenda, support for the Amba-boys, as the ADF are locally known, is not always voluntary.
"Those who don't support the guerrillas with food, petrol or weapons is put away as a traitor," says the man attacked by the machete.
Since you're here…
… we have a small favour to ask. More people are reading and supporting The Guardian's independent, investigative journalism than ever before. And unlike many news organisations, we have chosen an approach that allows us to keep our journalism accessible to all, regardless of where they live or what they can afford. But we need your ongoing support to keep working as we do.
The Guardian will engage with the most critical issues of our time – from the escalating climate catastrophe to widespread inequality to the influence of big tech on our lives. At a time when factual information is a necessity, we believe that each of us, around the world, deserves access to accurate reporting with integrity at its heart.
Our editorial independence means we set our own agenda and voice our own opinions. Guardian journalism is free from commercial and political bias and not influenced by billionaire owners or shareholders. This means we can give a voice to those less heard, explore where others turn away, and rigorously challenge those in power.
We need your support to keep delivering quality journalism, to maintain our openness and to protect our precious independence. Every reader contribution, big or small, is so valuable.
Source: https://www.theguardian.com